Our company was established in 1973 as a family business offering a complete glass service. For
the last 20 years, we have specialised in producing and fitting curved glass for both domestic andcommercial customers. More recently we have added to that a first-class service in all aspects offlat glass, from shower screens to complete shop fronts. So, whatever project you have in mind,allow us the opportunity to show you 'what we can do with glass' and help you make your ideascome alive. Contact us on info@trucurve.com
General Advise on Curved Glass
An important part of design involves giving consideration to practical elements. For example, if you are building a concrete stairs, or if you are talking about large sized panels or even if you need to consider a shape which is not a true curve, we would encourage you to let us know your ideas first before committing to them.
How to judge quality 
Areas that one can look to when considering the quality of a panel of curved glass. Optically it should have no waves in it which give a distorted view when looking through the glass
How to meassure
Measuring for a curve, like everything else, is simple when you know how.The main principle to understand is that accuracy is achieved by working/ measuring from point to point.
These are some of our more recent and appreciated works by our clients
Bend It
We can bend glass up to 2.4M wide x 3.4M high 
Work it
Our processing facilities include the following:. 
Mirror it
Mirror glass can be cut to any size and shape, and can be further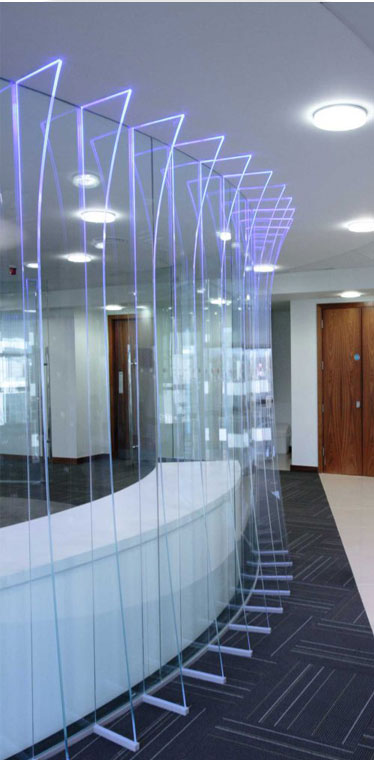 Colour it
When glass is coloured, it adds zest and vitality to the
Design it
Our design work focuses on the areas where our glass is used most.
Assemble it
With the huge range of stainless steel and aluminium fittings
We are proud of our products and we want you to know, what our cutomers feel about that.